FirstBitcoinChecklist.com
How to Buy Your First Bitcoin
First Bitcoin Checklist .com
How to Buy Your First Bitcoin
Step-By-Step Instructions
What does this mean?
A Virtual Private Network does two things:
1. It anonymizes your IP address, so others cannot identify your location.
2. It encrypts all outgoing and incoming website traffic, increasing your security.
This step is optional, but recommended.
Affiliate Disclaimer: If you click on links on this page and then make a purchase, I may earn a commission (at no cost to you).  I am a proud affiliate for these resources because I use them in my own life and business.
What does this mean?
A Cryptocurrency Exchange is a marketplace where you can buy and sell cryptocurrencies, and exchange fiat currency (dollars, cash, yen, euros, etc) for crypto coins.
3. Security Verifications
You will be asked to provide:
Username
Password
Slide puzzle
Phone verification
Email verification
2FA
What does this mean?
– Username: sometimes your email address, sometimes a unique identifier. 
– Password: secure password. You can store in your browser easily with Last Pass.
– The Slide Puzzle is easy with a mouse: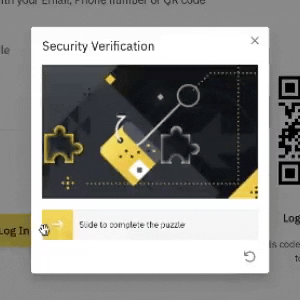 – Phone verification: You will be asked to receive an SMS verification code on your mobile phone.
– Email verification: You will have to click on a link and/or enter a 6-digit code sent to the email address you provide.
– 2FA: Two-Factor Authentication: Using an app like Google Authenticator, your phone or tablet will generate a unique 6-digit code every 60 seconds. This verifies that the person with both devices is the one authorizing the transaction.
4. KYC Verification
You will be asked for:
Name and address
Photo ID images, front and back
Take a selfie
Facial recognition funny faces
What does this mean?
To comply with money laundering regulations, cryptocurrency exchanges need to verify your identity.
You can buy, sell, and trade lower amounts with less stringent verification, while more secure levels of KYC (Know Your Customer) verification will increase your daily sending, purchasing, and withdrawal limits.
Name and Address: You only need to list them, but for higher verification limits to be unlocked, you will be mailed a postcard with a code.
Photo ID images, front and back: You will need to upload photos of the front and back of your ID card.
Take photos with your phone
email them to yourself, and
download the images to your computer.
Take a selfie: You may be asked to take a selfie (with your device camera, if possible) holding your ID, and possibly a piece of paper with the day's date written on it. The letters KYC (Know Your Customer) are sometimes required.
Facial recognition funny faces: Some exchanges require you to use a camera and make faces (big O with your mouth, turn head side to side) to take a facial recognition measurement.
5. Transfer Cash to Crypto
Options include:
Credit card purchase
Bank transfer
Watch out for Fees!
Lots of Verification
What does this mean?
Cash currency is in dollars, or pesos, or yen – it's called 'fiat,' and it can be deposited into a bank.
Cryptocurrency is stored on the blockchain.
Making a credit or debit card purchase can have higher fees, but depending on your country of residence, may be your only option.
Bank transfers can be slow or fast. A wire transfer takes days to verify, while a 3rd-party login service like Plaid will login to your bank accounts on behalf of the exchange (which means the exchange will not be able to login to your bank account, but Plaid will).
Watch out for fees! Attempt to purchase a few different times, and measure the mining fees, processing fees, and costs before you commit. Select the best one.
Lots of verification: SMS verification, email verification, 2FA (and maybe more) are required to validate each intent to make a transaction on the blockchain.
Please note: You don't have to buy an entire Bitcoin! You can buy just a bit of a Bitcoin. The value of a dollar's worth of Bitcoin will change from day to day, but if all you want to buy is 0.000125 BTC, that's enough to get started.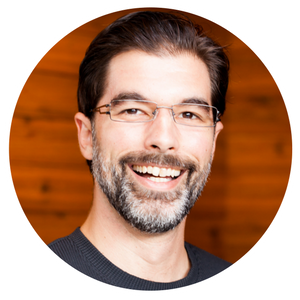 About The Author
Hi, I'm Caelan Huntress. I know it can be frustrating to learn a new technology, and it's intimidating if you don't know who to trust. I've got a long testimonials page full of people who count on my integrity for running and growing their business. I'm a digital marketer by trade, so I'm sensitive to the 'marketing bro' archetype that gives a bad name to those in my profession. Same with Crypto – I'm not a cryptobro, and I am not here for hype or scams. I'm just an enthusiastic student of blockchain technology, and I'm happy to share what I've learned with you.
Share this page.
If you have friends or family members who want to get into cryptocurrency, but they don't know how, copy and paste the URL https://FirstBitcoinChecklist.com and send it over to them.