Buying bitcoin is becoming easier, but it still takes a little know-how. In this easy, 6-step tutorial, I will show you how to buy your first Bitcoin on Coinbase, the most trusted cryptocurrency exchange.
First thing to know: Learn about the blockchain
Before getting into Bitcoin, you should probably understand the Blockchain. I like the way that Mark Pascall describes it. He's a blockchain programmer, so he knows the blockchain inside and out; however, sometimes he has to explain the blockchain to newbies at a dinner party. This is how he does it:
If you want an explanation that's a little more visual, try this video:
Second thing to know: Keep your guard up
Cryptocurrency is a little like the Old West right now. There's plenty of snake oil being sold to newbies, and you might be one of them, if you're not careful.
There are all sorts of bots you can purchase for high-frequency trading, and complicated schemes that look great on a flashy website. Be warned: plenty of people are losing plenty of money to scammers in this space. So tread carefully, and don't invest big with anyone or anything until they have earned your trust with smaller investments. Caveat emptor, friend.
How To Buy Bitcoin step-by-step
There are 32 countries where the easiest way to buy Bitcoin is on Coinbase. If you have fiat currency in USD or EUR, this is the most secure and trusted platform to use.
Step 1: Go to Coinbase
If you find this article helpful, please use my affiliate link to open your Coinbase account. At no cost to you, Coinbase will give us each $10 USD of free Bitcoin. https://stellarplatforms.com/coinbase
After you click the link above, you will see a screen just like this:
https://stellarplatforms.com/coinbase
Step 2: Sign up for an account
You can sign up for a Coinbase account with your name, email address and password. Then you will need to verify your email address.
Step 3: Select your location
After you have verified your email address, you will need to select your state or region.
Pro Tip: If you are outside of one of the 32 countries listed above, you can use a VPN to mask your location. I like https://stellarplatforms.com/strongvpn.
Step 4: Verify a phone number.
If you are outside of the US and you are using a VPN, try https://smsreceivefree.com/.
If you have the ability to set up a Google Voice number, I find that to be the easiest method of phone verification from abroad.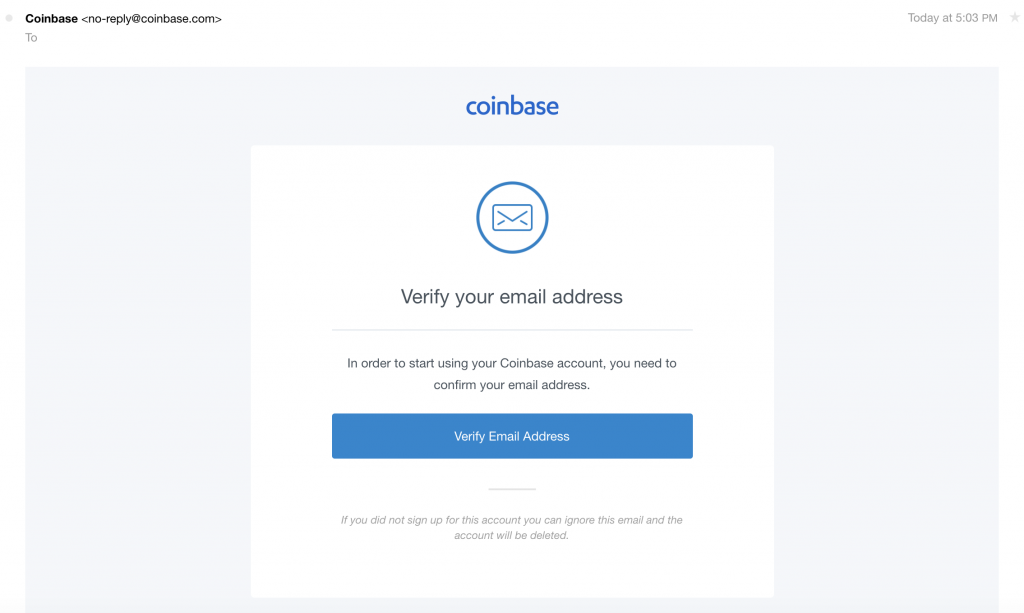 Step 5: Add a payment method.
Now you can login to Coinbase and see your dashboard. But you don't have the ability to send and receive bitcoin until you add a payment method.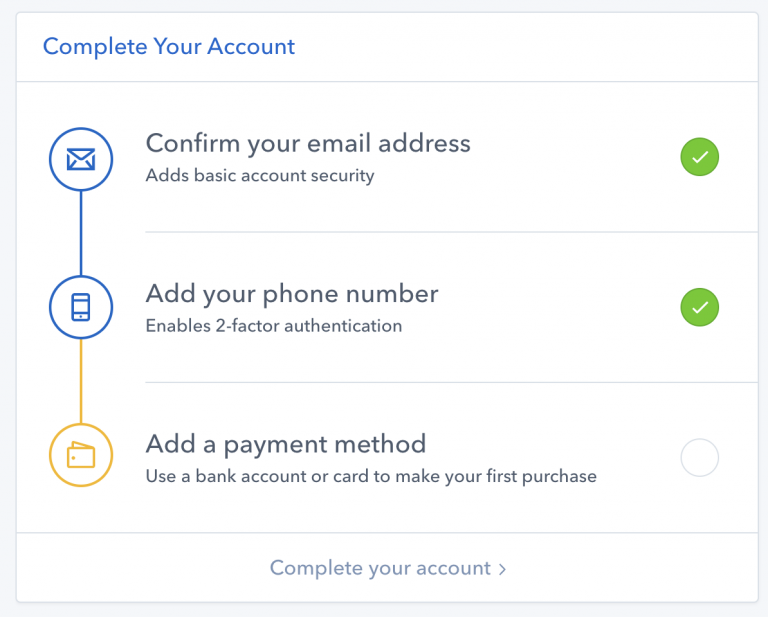 If you'd like to send Bitcoin to this account, you can, but you won't be able to send it back out again until your payment method is verified. Go to Accounts -> BTC Wallet -> Receive to get the address, and you can send BTC here.
Step 6: Verify your payment method
Once you added a payment method, Coinbase will send you two small transactions. You will need to verify the amounts in these transactions to verify that you are the owner of the account.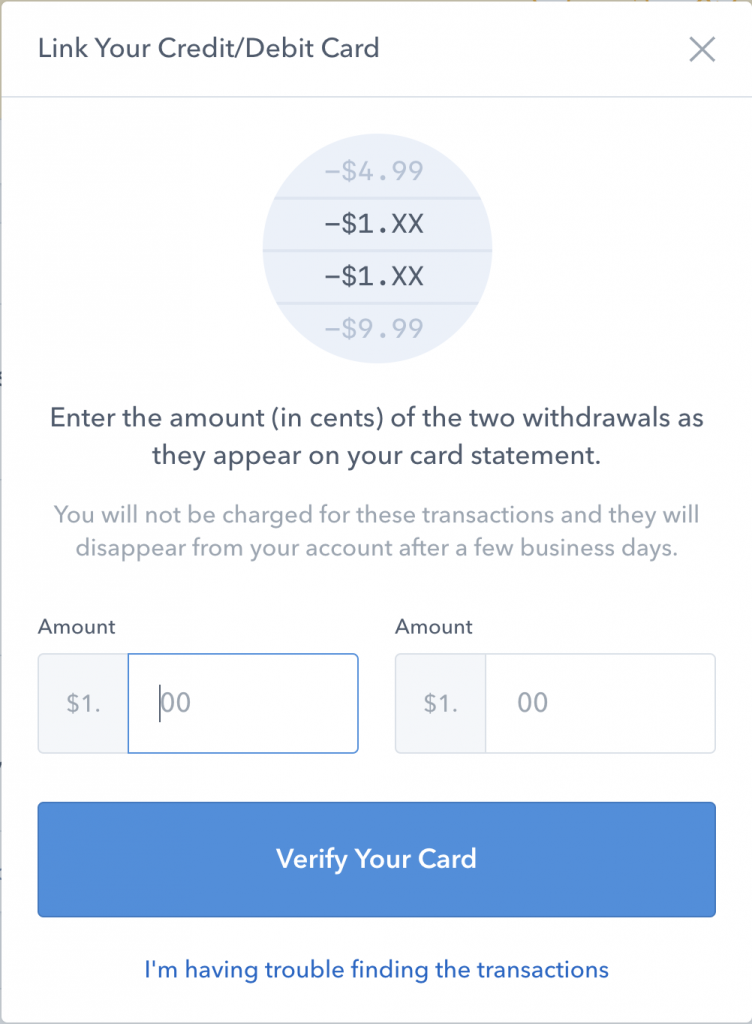 Once you have verified your payment method, you have a working Coinbase account. You can add funds and purchase Bitcoin, or one of the other currencies that Coinbase offers.
Step 7: Deposit funds
You will need to transfer fiat currency into your Coinbase wallet. A credit card transfers instantly; bank deposits run through ACH and take a few days to process. (Until banks get on the blockchain, anyways.)
Step 8: Buy Bitcoin
Go to Coinbase -> Dashboard -> Buy/sell, and you can purchase BTC with the funds in your Wallet.
Notice the fees? They are hefty. In the Crypto world, Coinbase has the highest fees. 4% per transaction is high, and if you have credit card fees or international processing fees on top of that, your transactions can quickly be eaten up by friction costs. If you want to trade regularly, look at one of the exchanges linked below.
Extra Credit: Other Cryptocurrencies
Your Coinbase account will allow you to buy and trade Ethereum (ETH), Litecoin (LTC), and Bitcoin Cash (BCH). As of this writing, it will not allow you to buy Ripple (XRP), which is the cryptocurrency with the highest market capitalization, and is poised for phenomenal growth in 2018. (I bought Ripple at $0.24 USD, and it has increased by 800%. Experts predict it will reach $1k next year.) If you'd like to buy Ripple, get on one of the exchanges here.
Related Reading: How To Buy Ripple (XRP) With A Credit Card
If you find this article helpful, please use my affiliate link to open your Coinbase account. At no cost to you, Coinbase will give us each $10 USD of free Bitcoin. https://stellarplatforms.com/coinbase